203. Παπαρούνα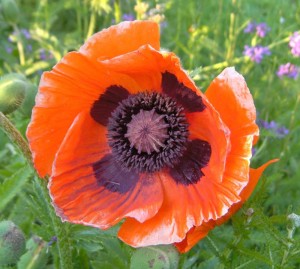 Περιγραφή
No Poppy is more striking or impressive than Scarlet Oriental Poppy. Easily grown from Poppy seeds, these huge perennial Poppies do well in cooler climates, and they are breathtakingly stunning when planted in masses. The blooms are deep, blood red and ruffled with a black cone-like center. Oriental Poppies will go dormant after they blooms, so plant Poppies among other later emerging sun-loving, sprawling perennials that will fill the space.
Καλλιέργεια με σπόρο
Sow in February to April or in August to September, or sow outdoors after all frosts have passed, usually around early May . Oriental Poppies are best sown indoors but they do not handle transplanting or over-watering well. If you plant indoors, handle them with care when transplanting.
Sowing Indoors:
Sow at 16 to 20°C (60 to 68°F), covering them with a very fine layer of soil. Perennial Poppies seeds need light for germination. Keep moist but not wet at all times. Germinate within 10 to 30 days. Prick out each seedling as it becomes large enough to handle, transplant into 7.5cm (3in) pots or trays. Gradually acclimatise to outdoor conditions for 10 to 15 days before planting out. Space 45cm (18in) apart.
Προέλευση
happygreenshopteam
Σπορά
9/4/2016
Φωτογραφίες