110. Σπανάκι Νέας Ζηλανδίας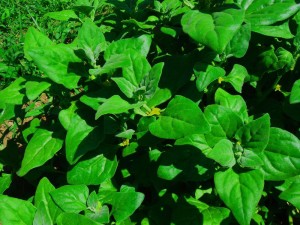 Άλλες ονομασίες
New Zealand Spinach, Tetragonia Tetragonioides, Everlasting Spinach, Warrigal Greens, Everbearing Spinach
Περιγραφή
Start New Zealand Spinach seeds and grow a tasty, nutritious plant for your herb garden! New Zealand Spinach is a warm season perennial that grows as an annual in colder climates. The New Zealand Spinach plant is not frost tolerant like true spinach and is not related to it although it is eaten and prepared the same. The taste is considered to be milder in flavor than true spinach. The leaves are arrow-shaped, thick, succulent and can be picked over a long period of time. The plant grows differently from true spinach as well. Instead of forming a clump, it has weak stems that sprawl and spread up to several feet. It also produces small yellow flowers and seed capsules.
Καλλιέργεια με σπόρο
Start the herb seeds directly outdoors after frost danger has passed. It generally takes 50 – 60 days until it is ready to be harvested. Some gardeners recommend that the New Zealand Spinach seeds are soaked overnight in water to aid in germination. Do not let the soil dry out while the spinach plants are establishing. New Zealand Spinach plants are fairly drought tolerant once they are established but the leaves will not be as tender or flavorful without water. Regular trimming encourages lush growth. In fact, many gardeners consider Tetragonia Spinach to be an ornamental herb as its foliage is so attractive, and it has been used as a ground cover. The New Zealand Spinach herb tolerates a wide range of conditions, but it prefers well-drained soil that is rich in organic matter. It prefers full sun, but when it is grown in the hotter climates, it benefits from some afternoon shade.
Προέλευση
happygreenshopteam
Σπορά
9/4/2016
Φωτογραφίες